On August 15, 2022, Armenian Chinese Partnership Center participated in the Round-Table Conference of Silk Road International Chambers of Commerce organized by China Council for the Promotion of International Trade Shaanxi Provincial Committee. The conference was held at the Sofitel Renmin Building Convention center in Xi'an, China, and was dedicated to the issues of forming a network of international transport logistics services from China to Eurasian countries.
About 200 representatives from China's 60 regional organizations, embassies and consulates of 36 countries, as well as management teams of the People's Government of Shaanxi Province, Foreign Affairs Office of Shaanxi Province, Shaanxi Provincial Development and Reform Commission, Shaanxi Provincial Transport Department, Shaanxi Provincial Department of Commerce participated in the meeting.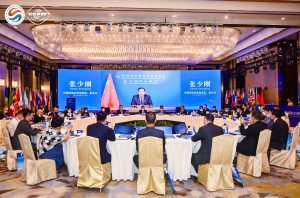 Davit Mkhitaryan, vice-president of Armenian Chinese Partnership Center, had a speech directed toward the solutions of China-Armenia transport logistics problems and the prospects of trade development within the scope of the Belt and Road initiative, which was highly appreciated by Ye Niuping, Shaanxi's vice-governor.
As a result of the meeting, China Council for the Promotion of International Trade of Shaanxi Province and Armenian Chinese Partnership Center signed a strategic cooperation agreement that will contribute to the development of trade, economic and cultural relations between Armenia and China.