"THE ROLE AND INFLUENCE OF SILK AND TEA ROADS ON THE DEVELOPMENT OF SCIENCE AND CULTURE OF PEOPLE AND COUNTRIES"
INTERNATIONAL CONFERENCE-EXHIBITION
DEDICATED TO THE 10TH ANNIVERSARY OF THE "BELT AND ROAD" INITIATIVE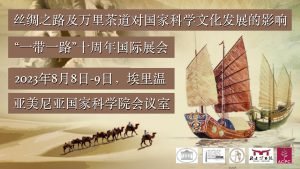 AUGUST 8-9, 2023, YEREVAN
BRIEF OVERVIEW
The "Belt and Road", or "New Silk Road", is an initiative adopted by the Chinese government in 2013 to promote infrastructure development, trade and investment. It aims to deepen trade, economic and cultural ties between China and the 140 member countries of the initiative.
…when the idea of restoring the "Silk Road" was discussed years ago, China attached importance to tracing the historical road along the historical path.
Therefore, Armenia is inseparably connected with this road. A section of the "Silk Road" stretched from the northern regions of Iran to the Araks Valley, through the Jugha River to Nakhichevan and Artashat, and from there to the Black Sea ports and Europe. Beginning in the mid-17th century, the Chinese "Tea Road" operated for nearly three centuries, spreading across the continent of Eurasia. Like the Silk Road, it also played a significant role in culture, history and trade. According to Chinese sources, one of the oldest routes of the "Tea Road" started from the village of Simei, located at the foot of Mount Wui, and passed through Mongolia, Iran, Armenia and, crossing the Caucasus Mountains, reached Moscow.
Thus, these routes connecting the East to the West were not only economic, but also cultural…
"MARITIME SILK ROAD. JOINT EXHIBITION OF CULTURAL PRODUCTS OF SEVEN STATES"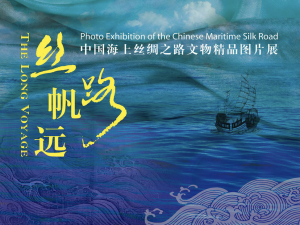 The Maritime Silk Road was a path of peace that connected the ancient civilizations of the East and West through the exchange of trade, culture, and art. It stretched through East Asia, Southeast Asia, South Asia, Central Asia, East Africa, and finally reached Europe via the Red Sea, connecting with many ports along the way.
Merchants from China, India, Arabia, Egypt, Rome, Greece and other countries all used this sea trade route. The traded goods were mainly pottery, silk, tea, spices, that is why the Maritime Silk Road was also called "Pottery Road", "Spice Road", etc.
2014 "Maritime Silk Road" in May. "Seven Provinces Joint Exhibition of Cultural Relics" ranked third among nearly 20,000 museum exhibitions in China, winning the "Top Ten Exhibition" award.
Following the exhibition.
2013 – Fuzhou, Fujian Province.
In 2014 – Beijing, Jinan (Shandong Province), Shenzhen (Guangdong Province), San Paulo (Brazil), Sydney (Australia), London (United Kingdom), United Nations Headquarters in New York (USA).
2015 – Bangkok (Thailand), Jakarta (Republic of Indonesia), Guangxi Province, Xiamen, Tianjin, Hainan Province, Hong Kong, Macau.
2016 – 2016: Xinjiang Province, Jiangsu Province, Zhejiang Province, Guangdong Province, Gelderland Province (Netherlands), Liege Province (Kingdom of Belgium), Athens (Greece), Dubrovnik (Croatia), Stockholm (Sweden).
2017 – Vienna, Austria, Posadas (Argentina), San Paulo (Brazil), Santiago (Chile).
2018 – Valletta (Malta).
2019 – Reykjavik (Iceland), Copenhagen (Denmark).
2023 – Yerevan (Republic of Armenia).
TOPICS OF THE CONFERENCE
Geology
Historiography
Museum science
Earth science
Archeology
Culturology
Art
World science
VENUE:
Baghramyan 24a, Yerevan, RA
Conference:Meeting hall of RA NAS presidency
Exhibition: Foyer of RA NAS presidency building
IMPORTANT DATES
July 20, 2023 – Deadline for applications and abstracts
July 25, 2023 – Confirmation of acceptance of the application and abstracts
August 1, 2023 – Deadline for submitting slide abstracts
August 8, 2023 – Opening of the conference-exhibition, ceremonial meeting, and excursions.
August 9, 2023 – Reports